SRSG NATALIA GHERMAN VISITS BISHKEK AND THE SOUTH OF KYRGYZSTAN
BISHKEK, Kyrgyzstan
On 22 September 2018, Special Representative of the UN Secretary General and Head of the UN Regional Center for Preventive Diplomacy for Central Asia (UNRCCA) Ms Natalia Gherman, visited Bishkek and the south of Kyrgyzstan on 17-21 September. In Bishkek she met with Deputy Foreign Minister Dinara Kemelova and discussed cooperation between Kyrgyzstan and the UNRCCA as well as existing and emerging challenges and opportunities for peace and security in the region. She also met with the UN Resident Coordinator and representatives of international organizations.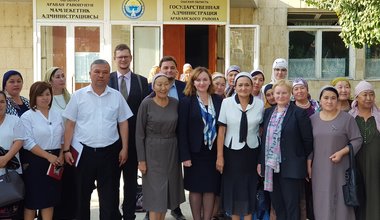 In the south of Kyrgyzstan, the SRSG had encounters with Governors of Osh and Batken provinces as well as Mayor of Osh city and exchanged views on developments in the southern region, emerging opportunities for cross-border cooperation with Uzbekistan and Tajikistan, including through ongoing and planned UN supported peacebuilding activities. In Osh the SRSG met with representatives of international organizations, local civil society organizations and national cultural centers under People's Assembly of Kyrgyzstan.
She also took part in activities to mark the International Day of Peace and on this occasion visited schools and peacebuilding project sites. She delivered a lecture at Batken State University on the role of women in conflict prevention as part of Open Day dialogue, jointly organized by UNRCCA, UN Women and UNDP. The SRSG also engaged in two round table discussions with women-activists and women organizations from cross-border areas of Aravan (Osh province) and Batken, where she exchanged views on ways to further implement SCR 1325 and the broader women peace and security agenda in the south of Kyrgyzstan.