Effectively Countering the Financing of Terrorism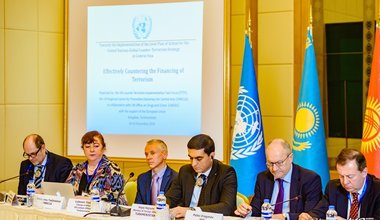 The fifth and last capacity-building regional workshop targeted Financial Intelligence Units (FIUs) and Law Enforcement Bodies and was organized with the help of the Terrorism Prevention Branch of UNODC and the financial support of the EU in Ashgabat, Turkmenistan from 14-16 December 2016.
The objectives were the following:  
o    To build the capacity of FIUs
o    To address country needs and capacities
o    To share experiences across the region and globally.
o    To identify further needs and priorities of participating states in order to provide further support through technical assistance at a regional and bilateral levels
Participants from the five Central Asian republics as well as Afghanistan and Russia included representatives of the FIUs, Ministries of Finance, Central Banks, Ministries of Interior, National Security Committee and Prosecutor's Offices.  Other participants were from the UNCCT/CTITF, the UNODC Regional Office for Central Asia (Tashkent) and Terrorism Prevention Branch (Vienna), UN DPA, the EU Office in Turkmenistan, the OSCE Center in Turkmenistan, the SCO/RATS and UN DSS. The sessions were led by experts from UNODC (ATC), Eurasian Group of FATF (EAG), the Egmont Group, the FIU of Belgium, CTITF project on sanctions and Royal United Services Institute (RUSI).
The training covered five sessions: 1) Legal framework and standards, 2) new terrorist financing challenges, 3) data collection and sharing, 4) freezing of assets, investigation, prosecution and 5) coordination and cooperation.  Some of the points covered by discussions among participants include the following:
•    While Central Asian countries have the adequate national legislative frameworks to counter the financing of terrorism and are adopting and amending new legislation, challenges remain in terms of lending priority to such legislation, harmonizing needs to meet international standards and  new requirements, and capacity to implement legislation.  
•    The Foreign Terrorist Fighters (FTF) phenomenon presents a new challenge both for European countries and for Central Asian countries, a challenge that requires cooperation in real time and knowledge about routes, profiles etc.. Following the trail of money is an additional challenge in CA given the heavy reliance on cash transactions in the region.  
•    CA countries also have the necessary legal framework to provide FIUs with data they need and different regional and multilateral systems exist though EAG, Egmont , CIS, etc. for data sharing. However, more capacity is necessary for analyzing the data, more information is needed about sharing requirements, and more exchanges need to be institutionalized with FIUs and law enforcement bodies of Turkey and Afghanistan.  
•    While CA countries are abiding by UN obligation under the sanctions regime ( such as UNSCRs 1267, 1988 & 1373) and possess the adequate legislative framework, challenges remain in terms of upholding the asset freeze given the cash economies, difficulties in prosecutions when intent is hard to prove, and abiding by humanitarian principles, such as continuing payments for disability and unemployment, including to families of foreign fighters.  
•    Inter-country and inter-agency cooperation needs to be strengthened by addressing challenges related to legal barriers, capacity issues for analyzing and processing data, confidentiality of information, technical difficulties and lack of awareness about obligations, and prioritization of requests in a timely manner etc.)  
 
-------------
Download in PDF format: