SRSG NATALIA GHERMAN PARTICIPATES AT THE CEREMONY OF GRANTING PASSPORTS TO PERSONS ADMITTED TO THE CITIZENSHIP OF TURKMENISTAN
ASHGABAT, Turkmenistan
On 1 October 2018, SRSG Natalia Gherman took part at the ceremony of granting passports to persons admitted to the citizenship of Turkmenistan, which was organized by the State Migration Service of Turkmenistan in Ashgabat.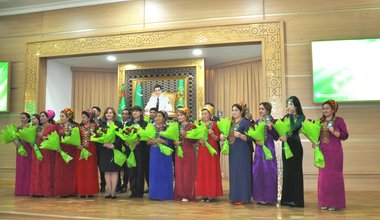 "National passport is a proof of the person's legal relationship with the state" mentioned Natalia Gherman, the Special Representative of the Secretary-General for Central Asia. "Along with the passport you get freedom to move, to own property, to receive pensions and medical services, as well as the right to participate in the democratic processes of your society", she added.
SRSG Gherman also focused on the United Nations Action Plan to End Statelessness until 2024 and the progress made by Turkmenistan in the implementation of this global initiative. She also expressed appreciation to the Government of Turkmenistan for its commitment to long-term cooperation with the United Nations on the issues of refugees and stateless persons.