SRSG KAHA IMNADZE VISITS UZBEKISTAN
TASHKENT, Uzbekistan
On 6-10 November, Kaha Imnadze, Special Representative of the UN Secretary-General for Central Asia, Head of UNRCCA, visited Uzbekistan in order to participate at the 9th International Scientific and Practical Conference "Trust, cooperation and professionalism as the key to a secure future" organized by the Regional Anti-Terrorist Structure of Shanghai Cooperation Organization (SCO RATS).
As part of his visit, the SRSG also participated in an international forum entitled "Children and youth in action – climate change in Central Asia" convened by the Zamin foundation in the context of the World Children's Day and the UN Climate Change Conference, which is scheduled to take place at the end of November 2023.
Furthermore, the SRSG, with the assistance of the Ministry of Foreign Affairs of Uzbekistan, visited the Aral Sea region to get acquainted with the environmental situation on the ground.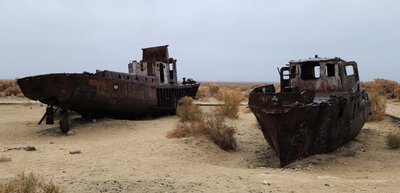 Addressing more than 150 conference participants representing the SCO Member States, Observer States and Dialogue Partner States as well as international and regional organizations, SRSG Kaha Imnadze underlined that, despite the global and regional challenges, Central Asia continues to demonstrate common understanding and unity in preventing violent extremism and countering terrorism.  Adoption of the updated Joint Plan of Action for the Implementation of the UN Global Counter-Terrorism Strategy in the region by all five Central Asian states at the high-level meeting in Tashkent in March 2023 clearly demonstrated this joint approach. In this context, the SRSG encouraged the international community to continue to support counter-terrorism efforts of the Central Asian states.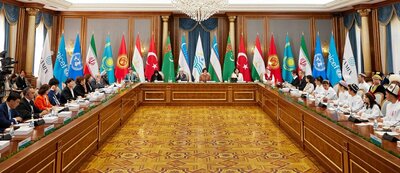 At the forum devoted to the role of children and youth in addressing climate change, the SRSG emphasized that, while climate change has predominantly a global character, there are actions which could be successfully implemented at a country level, such as education, and involvement of youth in activities related to preserving biodiversity, which the region continues to lose. Using the opportunity, the SRSG expressed strong support to the initiatives of the Zamin foundation to address a broad spectrum of climate related challenges, including engagement of women and youth, in a comprehensive and inclusive way.