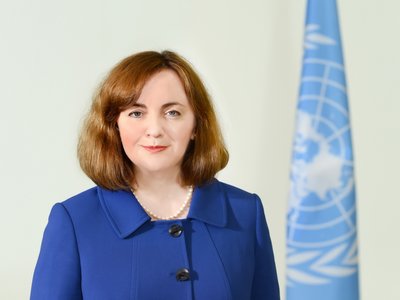 Dear Visitor,
Welcome to the website of the UN Regional Centre for Preventive Diplomacy for Central Asia! We are pleased to inform you about the latest developments in preventive diplomacy in Central Asia and to provide you with an instrument to communicate directly with us.
In his first address to the Security Council after taking office, UN Secretary-General Antonió Guterres has stressed the need to rebalance our approach to peace and security and to put more emphasis on conflict prevention, in partnership with regional organizations. The Secretary-General pledged to enhance the UN mediation capacity, both at headquarters and in the field, and to support regional and national mediation efforts.
 
The work of our Centre is based on its Mandate and Programmes of Action, both of which you can consult on this website.
Our mission is to implement the concept of preventive diplomacy in practice through enhanced dialogue, confidence building measures and genuine partnerships in responding to existing threats and emerging challenges in Central Asia. A large part of our work is related to carrying out "good offices". This means remaining impartial and ready to mediate between parties when needed. The Centre is also conducting specific projects related to the water/energy nexus, counter-terrorism activities and capacity building to prevent conflict, facilitate dialogue and catalyze support.
We are a dedicated team of people with sound experience in international relations and good knowledge of the region. We also have a network of representatives in the capitals of the Central Asian states, who coordinate our field activities.
The Centre was created 10 years ago as the first preventive diplomacy special political mission of the UN. Join us as we mark the 10th Anniversary of promoting peace and work for a prosperous Central Asia that welcomes stability and cooperation!