Mr. Kaha Imnadze (Georgia, 2023-present)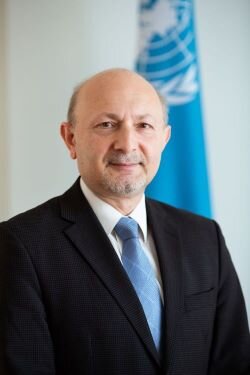 Mr. Kaha Imnadze was appointed as a Special Representative of the Nations Secretary-General for Central Asia, the Head of the UN Regional Centre for Preventive Diplomacy for Central Asia (UNRCCA) on 14 June 2023.
Mr. Imnadze brings to the position over 30 years of experience in diplomacy, negotiation, and mediation; foreign, defense and security policy; conflict resolution and political risk assessment. Most recently from 2022 to 2023, Mr. Imnadze served as Ambassador of Georgia to Canada and Permanent Representative to International Civil Aviation Organization (ICAO). Prior to this, he was Ambassador and Permanent Representative of Georgia to the United Nations from 2013 to 2022. Earlier in his career, Mr. Imnadze served as a Board Member of the Georgian Political Science Association (2012-2013), Program Director of the Georgian Institute for Russian Studies (2009-2013), Assistant to the President and Spokesman as well as Director of the Georgian State Information Service (2000-2003), Deputy Secretary of the National Security Council of Georgia (1998-2000), Deputy Chief of the Mission of Georgia to NATO and Embassy to the BENELUX countries (1994-1998).
Mr. Imnadze holds a Master's Degree in English Language and Literature from the Tbilisi State University and speaks Georgian (native), English, Russian, and French. Mr. Imnadze is married and has a daughter.