SRSG KAHA IMNADZE MEETS WITH THE PREZIDENT AND OTHER HIGH-LEVEL OFFICIALS OF THE KYRGYZ REPUBLIC
BISHKEK, Kyrgyzstan
On 26-29 August, Kaha Imnadze, Special Representative of the UN Secretary-General for Central Asia, Head of the UNRCCA, visited the Kyrgyz Republic in order to held talks with H. E. Sadyr Zhaparov, President of the Kyrgyz Republic;  H.E. Zheenbek Kulubaev, Minister of Foreign Affairs; Ms. Jamilya Isayeva, Vice-Speaker of the Parliament, and Mr. Aziz Kanatbek, Director of the National Institute of Strategic Studies. He also met with the UN country team and the representatives of the diplomatic community.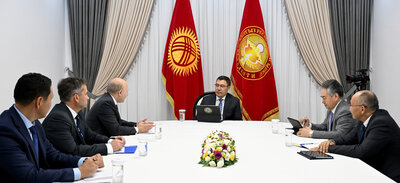 The President of the Kyrgyz Republic underlined importance of regular contacts among the Presidents of the Central Asian states and mentioned his plans to attend the next Consultative Meetings of the Central Asian Leaders in Dushanbe in September 2023.  He and other interlocutors outlined challenges faced by the Kyrgyz Republic and other Central Asian states related to climate change, water management, transnational organized crime, borders and the situation in Afghanistan.
Kyrgyz interlocutors encouraged UNRCCA to continue the work within its mandate, focusing on promoting trust and cooperation among the Central Asian states. SRSG Kaha Imnadze shared reflections on proceedings of his first briefing at the UN Security Council and underscored the Council's support to the UNRCCA activities pursued in partnership with countries in the region.