SPECIAL REPRESENTATIVE OF THE UN SECRETARY-GENERAL FOR CENTRAL ASIA, HEAD OF UNRCCA Natalia Gherman visits Kyrgyzstan
Bishkek, 19 December 2017 - Special Representative of the UN Secretary-General, Head of the UN Regional Centre for Preventive Diplomacy for Central Asia (UNRCCA) Ms.Natalia Gherman, visited the Kyrgyz Republic on 19-20 December. During the visit, SRSG Gherman held meetings with President Sooronbai Jeenbekov, Prime-minister Sapar Isakov, Minister of Foreign Affairs Erlan Abdyldaev and also met with the UN country team and representatives of diplomatic corps in Bishkek.
At the meetings with national partners, the SRSG praised the efforts of Kyrgyzstan in pursuing its democratic development, illustrated by the recent Presidential elections, and reiterated the significance of yet another peaceful and orderly transfer of power for the stability and sustainable development of the country and the region. She also took the opportunity to thank the Kyrgyz side for supporting the UN General Assembly resolution 72/7 that underlined the role of UNRCCA in consolidating regional dialogue and cooperation.
(SRSG Natalia Gherman meeting with Prime Minister Sapar Isakov)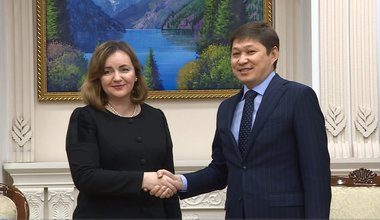 Both sides exchanged views on regional dynamics and current challenges faced by the Kyrgyz Republic and the other Central Asian states such as terrorism, violent extremism, organized crime and other international threats. Possible concerted actions and partnership to overcome these challenges were discussed, including within the upcoming third phase of UNRCCA's regional counter-terrorism initiative.
SRSG Gherman expressed appreciation for the country's efforts and engagement with neighbours in addressing unresolved issues, such as border delimitation and transboundary water management, and specifically welcomed the positive dynamics in the Kyrgyz-Uzbek bilateral relations, as well as efforts in settling the situation at the Kyrgyz-Kazakh border. She highlighted that the UNRCCA remains firmly committed to assisting the Central Asian countries in developing mutually beneficial cooperation in the sphere of transboundary water resources management.
The Kyrgyz authorities highly assessed the Centre's role as a platform for dialogue between Central Asia and Afghanistan and pointed out the increased involvement of Afghan representatives in Centre's activities that contributes to the stability and development of the region.
President Jeenbekov congratulated UNRCCA on its 10th anniversary and pointed out the importance and relevance of preventive diplomacy in the Central Asian Region and expressed support to UNRCCA's activities in advancing regional cooperation.