UNRCCA organized Training on Preventive Diplomacy
ALMATY, Kazakhstan
Government officials from five Central Asian states and Afghanistan completed a training on preventive diplomacy in peacemaking, mediation and conflict resolution organized by the United Nations Regional Center for Preventive Diplomacy for Central Asia (UNRCCA) on 4-6 June in Almaty, Kazakhstan.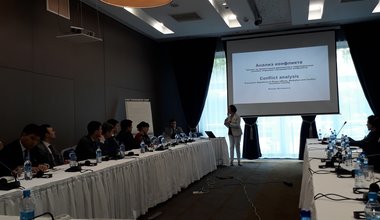 The three-day training was aimed to improve the negotiation and mediation skills of diplomats and other government officials who are involved in regional and international issues. The programme of the event examined efforts in preventive diplomacy and confidence-building and included theory and negotiation practice, case studies and presentations.
The training was organized in accordance with the Programme of Action of UNRCCA for 2018-2020, which defines the consolidation of the capacity of civil servants of Central Asian states in conflict prevention as one of the main priorities of the United Nations political mission.