UNRCCA AND UNOCT PARTICIPATED IN THE HIGH-LEVEL CONFERENCE "COUNTERING TERRORISM AND ITS FINANCING THROUGH ILLICIT DRUG TRAFFICKING AND ORGANIZED CRIME" IN DUSHANBE, 16-17 MAY 2019
DUSHANBE, Tajikistan
SRSG Natalia Gherman attended the high-level conference on "Countering Terrorism and its Financing Through Illicit Drug Trafficking and Organized Crime", which was held on 16-17 May 2019 in Dushanbe, Tajikistan. The Conference was hosted by the Government of the Republic of Tajikistan in cooperation with the United Nations, the European Union (EU) and the Organization for Security and Co-operation in Europe (OSCE). The Conference, attended by the Under-Secretary-General, Head of the United Nations Office of Counter-Terrorism Mr. Vladimir Voronkov, high ranking dignitaries from more than 50 countries, as well as senior representatives from dozen organizations and expert community gathered to show support to the Counter-Terrorism Global Strategy. This was the first international Conference on countering the financing of terrorism after the adoption of the Security Council resolution 2462 (2019).
The Conference has adopted the Dushanbe declaration which emphasizes the primary responsibility of governments in preventing and countering terrorist acts and promotes international cooperation in accordance with all their obligations under international law as well as partnerships, when appropriate, with civil society and relevant non-governmental organizations in developing and implementing effective measures to prevent terrorism and its financing.  The outcomes of these discussions will be reviewed during the United Nations Counter-Terrorism Week in New York in June 2020, during which there will be a review of the United Nations Global Counter-Terrorism Strategy, the second High-Level Conference of Heads of Counter-Terrorism Agencies of Member States and the first global congress of victims of terrorism.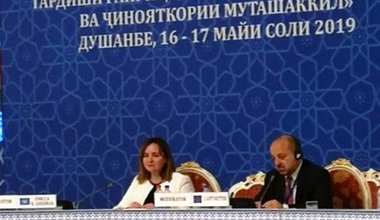 Moderating the second session of the Conference, SRSG Gherman noted  that Central Asian region is of high priority for the UN Secretary General highlighting that Central Asia is an example of how UNRCCA and the United Nations Office of Counter-Terrorism (UNOCT) are implementing regional and preventive approach to its counter-terrorism activity through the Joint Plan of Action.
On 16 May, Natalia Gherman along with the Under-Secretary-General, Head of the United Nations Office of Counter-Terrorism Mr. Vladimir Voronkov participated in UN Side Event "Preventing illicit financial flows from drugs and crime for regional peace, security and sustainable development" where she presented a statement on Regional perspectives and opportunities to implement professional development systems as an essential element of an effective Anti-Money Laundering/Combating the Financing of Terrorism (AML/CFT) framework.
On the sidelines of the conference USG Voronkov and SRSG Gherman were received by the President of the Republic of Tajikistan H.E. Emomali Rahmon and met with other high-level Tajik officials, including Minister of Foreign Affairs H.E. Sirodjiddin Muhriddin and Minister of Interior H.E. Colonel General Rakhimzoda Ramazon Hamro.
Head of the UNRCCA also held consultations with Ministers and Deputy Ministers, as well as Heads of international organizations and discussed activities of the UNRCCA in Central Asia and the practical ways to implement counter-terrorism regional Joint Plan of Action.