SRSG KAHA IMNADZE ADDRESSES THE COUNCIL OF HEADS OF FOUNDING STATES OF THE INTERNATIONAL FUND FOR SAVING THE ARAL SEA
DUSHANBE, Tajikistan
On 15 September 2023, Special Representative of the UN Secretary-General for Central Asia Kaha Imnadze participated in the Council of Heads of Founding States of IFAS in Dushanbe, Republic of Tajikistan.
At the meeting, hosted by the President of the Republic of Tajikistan, the Heads of the Founding States welcomed the activities under the Chairmanship of Tajikistan in IFAS (2020-2023) and exchanged views on topical issues pertaining to cooperation in the water, environment, energy and climate sectors as well as put forward initiatives for enhancing the work of the IFAS in the future. They also discussed progress made by the Working Group on the improvement of the organizational structure and legal basis of the IFAS.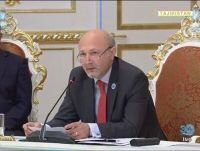 SRSG Imnadze congratulated the Founding States with the 30th anniversary of the Fund and emphasized substantial efforts made by the States in improving the quality of life of communities living in region affected by the Aral Sea disaster. Commending the work of the Fund, SRSG reassured that the United Nations will continue assisting countries of the region in creating favorable conditions for mutually beneficial regional arrangements on water, energy, and environment within the UNRCCA Strategy for supporting cooperation between the countries of Central Asia in this area.
The Council concluded with the adoption of a joint Dushanbe Declaration, as well as the other documents pertaining to the work of the IFAS. Kazakhstan expressed its readiness to take over the Chairmanship in IFAS for the term 2024-2026.
Using this opportunity SRSG Kaha Imnadze together with the UN Resident Coordinator for Tajikistan Ms. Parvathy Ramaswami and the UNRCCA team visited the Rogun Hydropower Plant (HPP) construction site to familiarize himself with the project and the country's current and future water management plans.