Special Representative of the UN Secretary-General for Central Asia, Head of UNRCCA Natalia Gherman visits China
BEIJING – On 20-21 November, Ms. Natalia Gherman, Special Representative of the UN Secretary-General (SRSG), Head of the UN Regional Center for Preventive Diplomacy for Central Asia (UNRCCA) visited Beijing to conduct consultations regarding the implementation of the Center`s mandate.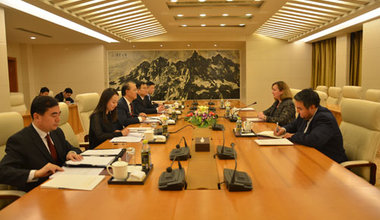 SRSG Gherman met Mr. Li Huilai, Assistant Minister of Foreign Affairs of China, and exchanged views on a wide array of issues of mutual interest, including political and security developments in Central Asia, as well as existing challenges to the region`s economic growth and development, and cross-border threats such as international terrorism, violent extremism, and illicit drug trafficking. The Special Representative underlined the significance of China`s efforts to encourage regional integration in Central Asia through trade and various infrastructure projects under its Belt and Road Initiative (BRI).
The Chinese authorities highly appreciated the Center`s activities designed for creating conditions and platforms for multilateral dialogue on pressing matters, such as regional security and cooperation on management of water resources.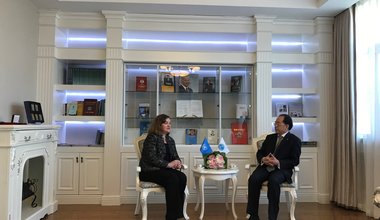 SRSG Gherman also visited the headquarters of the Shanghai Cooperation Organization (SCO), and held a meeting with Deputies Secretary-General Mr. Wang Kaiwen, and Mr. Vladimir Potapenko, to discuss further cooperation between the two organizations in the areas of the implementation of the Global Counter-Terrorism Strategy, and joint approaches towards wider cooperation of Afghanistan with regional mechanisms in Central Asia.