SPECIAL REPRESENTATIVE OF THE UN SECRETARY-GENERAL FOR CENTRAL ASIA, HEAD OF UNRCCA NATALIA GHERMAN PARTICIPATES AT THE Ministerial Conference "HEART OF ASIA"-Istanbul Process
On 30th of November-1st of December in Baku, Azerbaijan, the United Nations Regional Centre for Preventive Diplomacy for Central Asia participated in the seventh Ministerial Conference of the "Heart of Asia"-Istanbul Process on "Security and Economic Connectivity towards a Strengthened Heart of Asia Region"
The President of the Republic of Azerbaijan, H.E. Mr. Ilham Aliyev and the President of the Republic of Afghanistan H.E. Mr. Ashraf Ghani attended the Ministerial Conference.  Minister of Foreign Affairs of Afghanistan, H.E. Mr. Salahuddin Rabbani, Minister of Foreign Affairs of Azerbaijan H.E. Mr. Elmar Mammadyarov, Delegations from Heart of Asia Countries, Supporting Countries, Regional and International Organizations were also in attendance.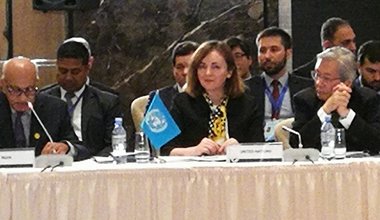 Addressing the Ministerial Session of the Congress, the Special Representative of the UN Secretary-General, Head of the UN Regional Centre for Preventive Diplomacy for Central Asia (UNRCCA), Ms. Natalia Gherman noted the significant progress in re-establishing regional cooperation mechanisms achieved over the past six years through annual Ministerial Conferences and highlighted the importance for Central Asia and Afghanistan to further pursue the integration effort.
Prior to the Ministerial Conference, UNRCCA also attended the Senior Officials Meeting (SOM) in the presence of Deputy Foreign Minister of Azerbaijan Araz Azimov and Deputy Foreign Minister of Afghanistan, Adela Raz. SOM provided an opportunity to review progress on Confidence Building Measures (CBMs) related to counter-terrorism, counter-narcotics, education, disaster management, trade commerce and investment opportunities.
UNRCCA, in line with its mandate, supports effective cooperation for the purposes of achieving peace and prosperity through confidence building and dialogue among the Central Asian partners and Afghanistan.
The recognition of the UNRCCA's unique role in encouraging political dialogue by preventive diplomacy in the region has been reflected in the UN General Assembly Resolution 72/7 on the 17th November 2017 at the initiative of Central Asian States and co-authored by an overwhelming majority of the UN Member States.