UNRCCA ORGANIZED TWO TRAINING SEMINARS FOR YOUTH FROM CENTRAL ASIA AND AFGHANISTAN IN OCTOBER 2022
ASHGABAT, Turkmenistan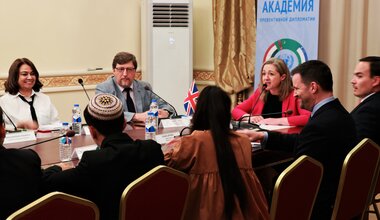 The UNRCCA continued to train the youth of Central Asia and Afghanistan within the framework of the Preventive Diplomacy Academy initiative (PDA). In October 2022, the students of the Academy took part in two online seminars on the following topics: «Public speaking skills» and "Gender in the context of conflict and peacebuilding".
On 12 October, the "Public speaking skills" seminar participants recognized the main challenges of speaking in public and explored ways to improve them. During the training, the students mastered the technique of self-correcting the psychological attitude before delivering a public speech and, in practice, strengthened the algorithms and rules for preparing and structuring presentations. 
On 18 October, the Preventive Diplomacy Academy held an expanded seminar in a hybrid format on "Gender in the context of conflict and peacebuilding", which was attended by PDA 2022 participants along with PDA graduates from previous years and invited external speakers from the British Embassy to Turkmenistan. The Ambassador Extraordinary and Plenipotentiary of the United Kingdom of Great Britain and Northern Ireland to Turkmenistan, Ms Lucia Wilde, delivered a speech on the importance and value of gender equality and positive changes in women's participation in domestic and international politics. The participants of the Academy seminar could deepen their knowledge in the field of gender in the context of conflict and peacebuilding, having also listened to an online lecture by an invited expert from the UK Foreign, Commonwealth and Development Office (FCDO). The concepts of gender equality were examined through the lens of SDGs, international law and UN Security Council Resolution 1325 (2000).
The training seminar ended with a question-and-answer session in which participants of the Academy shared their impressions of the gender equality situation in their countries.