UNRCCA ANNOUNCES ESSAY CONTEST "YOUTH VOICES FROM CENTRAL ASIA – UN75 AND REGIONAL PEACE AND SECURITY"
Ashgabat, Turkmenistan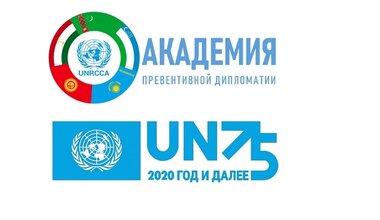 Today, the United Nations Regional Centre for Preventive Diplomacy for Central Asia (UNRCCA) announced a contest for young people across Central Asia and Afghanistan, "Youth Voices from Central Asia – UN75 and Regional Peace and Security.
The contest, part of the UNRCCA Preventive Diplomacy Academy project, is open to young people between the ages of 18 and 35 who are citizens of Kazakhstan, Kyrgyzstan, Tajikistan, Turkmenistan, Uzbekistan and Afghanistan. Citizens of these countries living abroad are also eligible, as well as citizens of other countries currently studying in any of these six countries. The deadline for submissions to UNRCCA-Academy@un.org is 31 July 2020.
Young people are asked to think about the world they want to see in 25 years – the 100th anniversary of the founding of the United Nations – and the ways that preventive diplomacy and regional peace and security can impact that vision. Since UNRCCA is all about preventive diplomacy, essays should reflect on regional peace and security, the Youth, Peace and Security agenda, the Women, Peace and Security agenda or any other area of the work of the United Nations Security Council.
The contest offers a unique opportunity for young people to convey their opinions, ideas and even criticism to some of the most influential people in the world Their ideas will be used to inform public debate and could be taken up by national and international decision-makers, inspire broader civic engagement and help deepen international cooperation.
Winning essays will be published in a book in English and in Russian that will be presented to world leaders and senior United Nations officials at the commemoration of the 75th anniversary of the founding of the United Nations in New York in September 2020. The book will also be distributed to Government officials in Central Asia and Afghanistan and an electronic version of the book will be available to the general public through the UNRCCA website.
For more information:
Youth Voices from Central Asia essay contest announcement https://unrcca.unmissions.org/youth-essay-contest-%E2%80%9Cyouth-voices-central-asia-%E2%80%93-un75-and-regional-peace-and-security%E2%80%9D