UNRCCA AND UZBEKISTAN HOSTED INTERNATIONAL CONFERENCE "CENTRAL ASIAN CONNECTIVITY: CHALLENGES AND NEW OPPORTUNITIES" IN TASHKENT
TASHKENT, Uzbekistan
On 19-20 February 2019, in Tashkent, the United Nations Regional Centre for Preventive Diplomacy for Central Asia (UNRCCA) and the Ministry of Foreign Affairs of the Republic of Uzbekistan jointly organized an international conference entitled "Central Asian Connectivity: Challenges and New Opportunities". Nearly 200 experts from 36 countries, including the leading analytical and scientific institutions of all of the Central Asian countries participated.
The aim of the conference, which followed up on the Central Asian Experts Forum that took place in November 2018 in Tashkent and Bukhara, was to debate key issues on the regional agenda and discuss possible responses. The results of the conference will be transmitted to the Heads of State of the five countries of the region as a contribution to their upcoming summit, which will be held in April in Tashkent.
The agenda of the conference covered the full spectrum of issues on the regional agenda, including security, trade, transport, water and the environment, energy, tourism, culture and humanitarian affairs.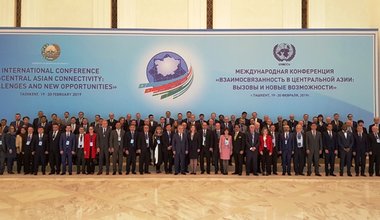 In her opening speech, SRSG Natalia Gherman recalled a number of significant achievements in regional cooperation in 2018, highlighting that the intensive pace of high-level bilateral visits and bilateral agreements among the Central Asian countries continues apace. At the same time, real progress required much more intensive cooperation, support and resources from international partners. SRSG Gherman highlighted that the strong and sustained political will of the leadership of all five Central Asian countries in the region is instrumental for solving issues like counter-terrorism and extremism or transboundary water management.
In his closing remarks, Uzbek Foreign Minister Abdulaziz Kamilov said that the "exchange of views held during the conference has a deep historical background and confirmed that strengthening interaction in Central Asia is an objective, stable and irreversible trend, based on the firm political choice of all countries in the region." He added that investing in regional cooperation contributes to developing Central Asia into a stable and prosperous region, making it a reliable and predictable partner.
SRSG Gherman suggested that the leaders of the region might consider bringing cooperation to a higher, more structured level. "Regular, ongoing meetings at all levels, including at the level of Government, Parliament, civil society and academia can become permanent. This could help to make the current positive dynamics in Central Asia irreversible. But regardless of what you choose, the United Nations and the international community as a whole will proudly stand with you and do what we can to support your efforts".
She also called on participants to bring the lessons of Central Asia to the wider world, stressing that "the ongoing development of regional cooperation throughout Central Asia – including with Afghanistan and other neighbouring states – stands as a positive example".
"Regional cooperation is the key to long-term peace, stability and sustainable development. Together we are stronger – is the best lesson learnt" - emphasized SRSG Natalia Gherman summarizing the results of the Conference. 
The full text of SRSG's opening remarks in RUS is available at: <link>
The full text of SRSG's closing remarks in ENG is available at: <link>