Central Asian officials convened in Bishkek to discuss utilization and effective management of transboundary watercourses
BISHKEK, Kyrgyzstan
On 18 April 2018, a capacity-building workshop "Ensuring equitable utilization and effective management of transboundary watercourses and Public Private Partnerships for infrastructure development" took place in Bishkek. The workshop was arranged by UNRCCA within the series of special events devoted to management of transboundary watercourses in Central Asia through international water diplomacy, law and institutions.
The workshop was attended by representatives of relevant ministries and agencies of Central Asia and Afghanistan, regional partner organizations, including OSCE, GIZ and USAID. Participants familiarized themselves with the basic principles, norms and instruments for joint and sustainable exploitation of transboundary watercourses, as well as with the best practices and international experience in this field.
The event also included a separate interactive session focused on development of negotiation and mediation skills. It enabled the workshop attendees to brainstorm the possible models of equitable sharing of benefits through applying public-private partnerships.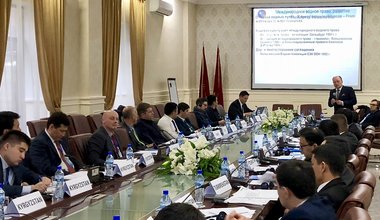 In his introductory speech Deputy head of the UNRCCA, Philipp Saprykin, highlighted the positive regional dynamics leading to regular high-level contacts among the Central Asian states in enabling an appropriate political environment for working towards solutions on common management of water-energy resources. He reaffirmed the Centre's readiness to continue serving as impartial platform for a dialogue to support the countries' efforts in this field. 
On 19 April, back-to-back with the Workshop a meeting of experts of five Central Asian states took place to discuss ways of enhancing regional cooperation on the use and management of transboundary water-energy resources. The expert meeting arrived at specific recommendations, which further will be discussed and coordinated at the national level in the Central Asian states. The participants supported the continuation of such form of regular expert meetings under the UNRCCA auspices.